Vincent Keymer wins GRENKE Chess Open 2018!
Incredible, unbelievable, sensational. Vincent Keymer (pictured below) beat Richard Rapport in the last round and won the GRENKE Chess Open with 8 points out of 9 games. The German rising star, who is sponsored by GRENKE, started the tournament as the 99th seed and finished ahead of 49 Grandmasters. With this result Keymer qualified for the GRENKE Chess Classic 2019, but he said that he would yet have to see if he would take up that invitation - time will tell. Congratulations, Vincent!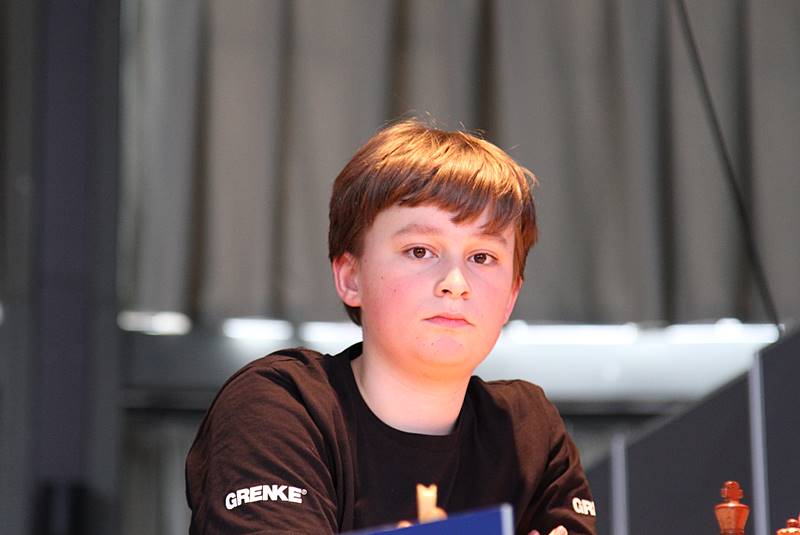 Going into the last round Vincent Keymer was leading the tournament on 7/8 with Anton Korobov (Ukraine) and Alexei Shirov (Latvia). The two Grandmasters drew their short but interesting game on top board after one hour, while a tense battle was underway in the game between second seed Richard Rapport and the young German. The Hungarian grandmaster struggle to do his favourite status justice. In a Queen's Gambit Rapport came out of the opening with an advantage, but then decided to sacrifice a piece to get an attack against the black king in the middle game.
The attack however turned out to be less dangerous than expected. Although Keymer's king had to march all the way to the queenside and despite Rapport having three pawns for the piece, the young German was clearly better. Rapport even offered to draw, but Keymer felt that victory was within reach. He first improved his own's king position, before bringing his pieces over to the kingside to attack the white king. The decisive blow came with 43...Bxh3, after which the white position fell apart. Rapport resigned on move 51 and Keymer was the GRENKE Chess Open 2018 Champion.
Watch Vincent analyse this game in the following video:
His tournament victory in Karlsruhe of course earned Keymer a GM norm, but also the non-negligible first prize of 15,000 euros.
Behind Keymer three Grandmasters shared places 2-4 with 7.5 points. Anton Korobov had the best tiebreak and came in second place, with Dmitry Gordievsky (Russia) taking third and Alexei Shirov third. 22 players finished on 7 points and among them was the best German player after Keymer - Falko Bindrich, who finished in 6th place.
It was a disappointing tournament for many favourites. Etienne Bacrot (France) came in 19th with 7 points, Hao Wang (China) finished in 15th place with the same score and Richard Rapport even dropped out of the prize money finish because of his defeat against Keymer. It was also an event to forget for Rustam Kasimdzhanov (Uzbekistan), who came in 103rd after losing to Christopher Noe in the final round.
This result earned the young German from Eppingen a GM norm. From the organisers' point of view it was great to see so many norms being realised - no less than 18 norm certificates were distributed at the prize-giving. GM norms were realised by Vincent Keymer, Mikolaj Tomczak, Grzegorz Nasuta (both from Poland), Robby Kevlishvili (Netherlands), Christopher Noe and Hagen Poetsch (both from Germany).

Christopher Noe made a GM norm in Karlsruhe
IM norms were realised by Niels Ondersteijn, David van Kerkhof (both from the Netherlands), Quentin Burri (France), Martin Lokander (Sweden), Ashot Parvanyan (Armenia), Anthony Petkidis, Jakob Pfreundt, Raphael Lagunow, Xianliang Xu und Luis Engel (all from Germany).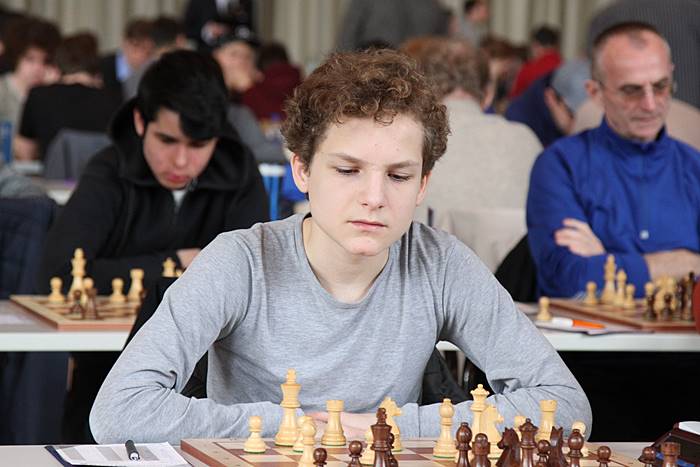 Luis Engel from Hamburg had an impressive performance at the GRENKE Chess Open
Josefine Heinemann (Germany) realised a WGM norm while Anastasia Travkina (Russia) achieved a WIM norm.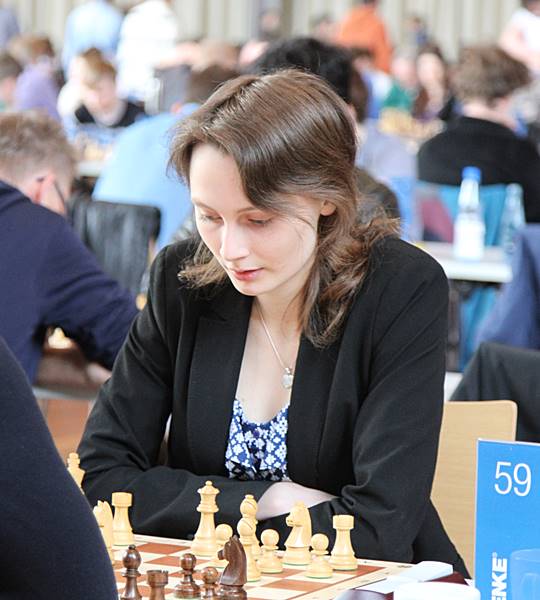 Josefine Heinemann made a WGM norm
The best woman prize was won by Iva Videnova. The IM from Bulgaria beat Michael Kopylov in the last round and finished on 6.5 points. Trailing her by half a point were Anna Zatonskih (USA) and Subbaraman Vijayalakshmi (India), who took second and third places.

From left to right: Subbaraman Vijayalakshmi, Iva Videnova, Anna Zatonskih
Text and photos: Georgios Souleidis
Translation: Fiona Steil-Antoni