Then there were six
After 4 rounds there are only six players left on a perfect score at the GRENKE Chess Open. On top board Richard Rapport (Hungary) beat Eric Lobron and is therefore the highest rated player in the leading group. Zdenko Kozul (Croatia), Vitaliy Bernadskiy (Ukraine), Maxime Lagarde (France), Daniel Sadzikowski (Poland) and Andreas Heimann (Germany) are the other five players on 4/4. The local rising stars Luis Engel and Vincent Keymer continue impressing as they are on 3.5, as is leading woman player Anna Zatonskih.

Richard Rapport against Eric Lobron
Rating favourite Richard Rapport won the top board encounter against Eric Lobron. The Hungarian met 1.d4 with the Queen's Indian Defence and got a nice position out of the opening. In a middle game with a closed centre Lobron pushed his h-pawn and opened the h-file, which turned out to have a boomerang effect as it was his young opponent who infiltrated on this file to decide the game in his favour.
Johannes Carow is a talented young IM from Germany, but he went down against the very experienced Croatian GM Zdenko Kozul. Carow played the Samisch Varation in the King's Indian Defence, but after mass exchanges Kozul used the powerful combination of queen and knight to bring home the full point.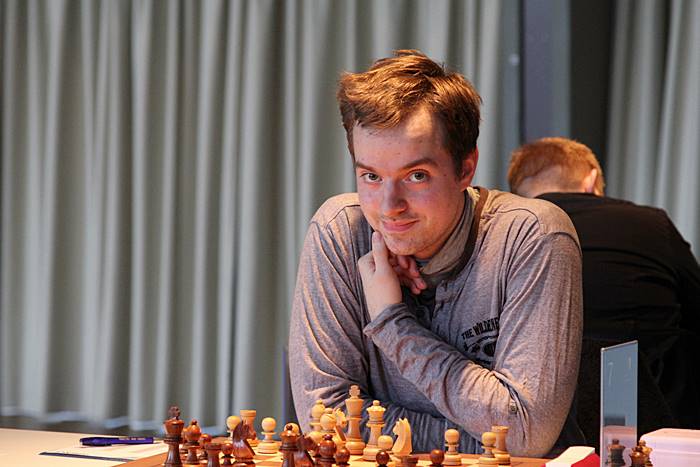 Carow was in high spirits at the start of the game
Vitaliy Bernadskiy and Arkadiusz Skawinski played a thrilling game on board 9, but the favourite from Ukraine prevailed after Skawinski took too much risk by remaining in the centre with his king. 
After four rounds the best German player is Andreas Heimann of the club of 'Schachfreunde Deizisau'. The 26-year old GM convincingly beat Frank Zeller and he will be rewarded with the opportunity to play his round 5 game on stage, alongside the ten GRENKE Chess Classic participants.
Luis Engel still has good chances, as he followed up his victory against Gabor Papp (Hungary) in round 3 with a draw against IM Alessio Valsecchi (Italy) and now stands on 3.5/4. Vincent Keymer is on the same score after beating a lower rated opponent in round 4, as is Xianliang Xu after drawing against GM Falko Bindrich. One might however wonder if Xianliang, who plays for SG Porz, should not have played on in the final position, as he was a clear pawn up.
Xianliang Xu against Falko Bindrich
Many of the top seeds are struggling to overcome their lower rated opponents, such as number one seed Etienne Bacrot (France) who drew against Ashot Parvanyan (Armenian) and now trails by a full point.  Alexei Shirov (Latvia) is in the exact same situation as he was held to a draw by Alexander Seyb (Germany). On the other hand, two favourites who stumbled in the opening round are now back in the race thanks to three consecutive wins: third seed Wang Hao (China) and Rustam Kasimdzhanov (Uzbekistan).
In the race for the women's prize it is unsurprisingly the category favourite Anna Zatonskih who is leading the charge as she beat FM Felix Klein to get to 3.5/4.
The round 5 pairings on the first ten boards are the following:
1
2
Rapport, Richard
19
Lagarde, Maxime
 
-
 
2
12
Kozul, Zdenko
23
Heimann, Andreas
 
-
 
3
20
Sadzikowski, Daniel
17
Bernadskiy, Vitaliy
 
-
 
4
61
Firat, Burak
3
Wang, Hao
 
-
 
5
4
Andreikin, Dmitry
62
Lubbe, Nikolas
 
-
 
6
6
Van Wely, Loek
63
Inkiov, Ventzislav
 
-
 
7
67
Zatonskih, Anna
7
Korobov, Anton
 
-
 
8
69
Trent, Lawrence
9
Fridman, Daniel
 
-
 
9
10
Gordievsky, Dmitry
64
Grinberg, Eyal
 
-
 
10
71
Vogel, Roven
11
Banusz, Tamas
 
-
Round 4 Results
Standings after Round 4
Round 5 Pairings
Text and photos: Georgios Souleidis
Translation: Fiona Steil-Antoni