No more players with a clean sheet
After five rounds in the GRENKE Chess Open, none of the players have a perfect score. That is why we have no less than 23 players with 4,5/5 points. Some of the favorites like Richard Rapport (Hungary) and Dmitry Andreikin (Russia) are among the leaders, but also seven German grandmasters. Best female player in the A-Group is Subbaraman Vijayalakshmi (India) with four points.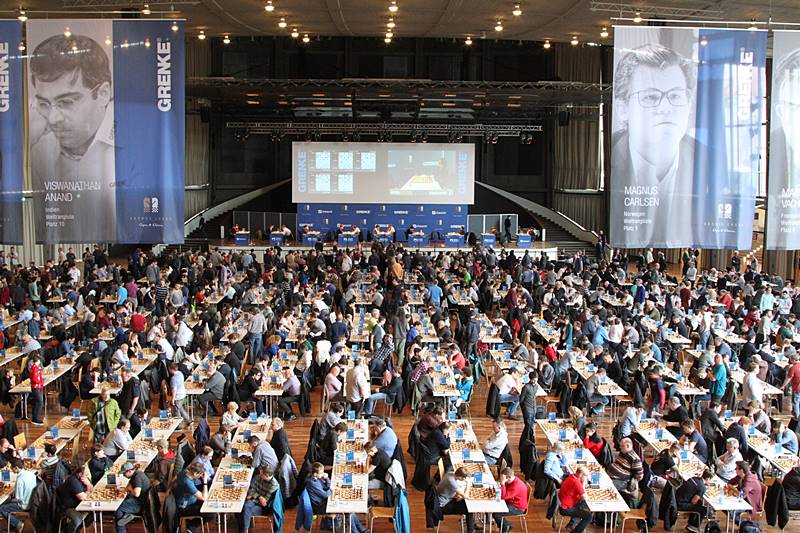 The game on board one between Richard Rapport and Maxime Lagarde (France) was balanced. The Hungarian grandmaster had some positional advantage during the game and even managed to win a pawn, but that was not enough for a win. Zdenko Kozul (Croatia) and Andreas Heimann (Germany) both play for the same team in the German Bundesliga, Schachfreunde Deizisau. The team mates did not play a very exciting game and agreed to share the point after 34 moves.
Andreas Heimann vs. Zdenko Kozul
Vitaliy Bernadskiy (Ukraine) had a good chance to keep a 100% score, because the number 17 seed had a good looking rook ending against Daniel Sadzikowski (Poland), but he did not manage to score the full point.
Seventeen other players joined the big group of leaders with 4,5/5, but there were no big surprises in this round. Dmitry Andreikin (Russia), Loek van Wely (Netherlands), Anton Korobov (Ukraine) and Daniel Fridman (Germany) won their games wit ease.
Subbaraman Vijayalakshmi is the best female player with 4/5. The IM from India won her game against the Russian GM Sergey Grigoriants. She overtook Anna Zatonskih (USA), who lost against Anton Korobov. German youngster Vincent Keymer ist still playing good games and after his draw against GM Jean-Noel Riff (France) he keeps his place in the top. The 13-year old up-and-coming star has scored four points.
Subbaraman Vijayalakshmi
In round six we will see these pairings of players with 4,5 points, plus Hao Wang:
| | | | | | | | |
| --- | --- | --- | --- | --- | --- | --- | --- |
| 1 | 20 | Sadzikowski, Daniel | 2 | Rapport, Richard |   | - |   |
| 2 | 21 | Moussard, Jules | 4 | Andreikin, Dmitry |   | - |   |
| 3 | 23 | Heimann, Andreas | 6 | Van Wely, Loek |   | - |   |
| 4 | 7 | Korobov, Anton | 30 | Antal, Gergely |   | - |   |
| 5 | 9 | Fridman, Daniel | 33 | Malakhatko, Vadim |   | - |   |
| 6 | 34 | Kollars, Dmitrij | 10 | Gordievsky, Dmitry |   | - |   |
| 7 | 38 | Schlosser, Philipp | 12 | Kozul, Zdenko |   | - |   |
| 8 | 15 | Bindrich, Falko | 41 | Ider, Borya |   | - |   |
| 9 | 17 | Bernadskiy, Vitaliy | 47 | Poetsch, Hagen |   | - |   |
| 10 | 46 | Bellahcene, Bilel | 18 | Buhmann, Rainer |   | - |   |
| 11 | 19 | Lagarde, Maxime | 49 | Kevlishvili, Robby |   | - |   |
| 12 | 3 | Wang, Hao | 57 | Nasuta, Grzegorz |   | - |   |
Text und Photos: Georgios Souleidis
Translation: Eric van Reem