GM Aleksander Indjic takes sole lead after Day 3; Firouzja suffers massive upset
Out of the forty-five players who shared the lead on day 2, only one managed to keep his lead at the conclusion of the third day of the GRENKE Chess Open. Winning both of his games on day three, it was the Serbian GM Aleksander Indjic who kept the sole lead with a perfect 5/5 score. A long list of twenty-four Grandmasters and International Masters share second place at 4.5/5.
The day, once again, began with a shocking result from Alireza Firouzja | Photo: Georgios Souleidis
The Iranian prodigy, following his forfeit in the previous round was clearly not his usual self. In his game against the much lower rated Antonia Ziegenfuss (1945), he had managed to get an edge in the endgame but ended up committing an unbelievable blunder for a grandmaster of his calibre.
Position after 35...Kc5
On his 36th turn, Alireza shockingly left his rook en prise, taking on e6 in the above position. Down a full rook, there was not much to be done. He was forced to throw in the towel a few moves later.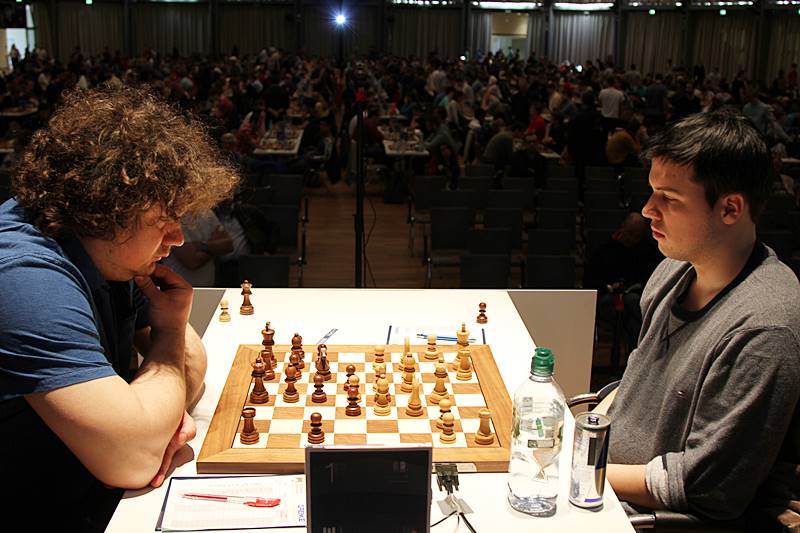 Anton Korobov during his game against Pier Luigi Basso | Photo: Georgios Souleidis
Meanwhile, Anton Korobov had reached a winning position after his opponent, GM Pier Luigi Basso of Italy, incorrectly gave up the exchange in a King's Indian Defence. To conclude the game, Korobov found a pleasing queen sacrifice that helped his central passed pawn queen by force.
Korobov uncorked 36…Qxf1! here. After 37.Qxf1 e2, white was unable to stop the pawn.
Another incorrect exchange sacrifice was seen in the fifth board clash between Arthur Pijpers and SP Sethuraman. Dutch IM had his grandmaster opponent on tightropes after the latter's dubious 27.Rxf4. Pijpers was alert to find the tactical refutation 29.Nxd5 and put Sethuraman on the backfoot. At some point, Pijpers was even winning. However, the Indian kept finding tricks in the position and managed to save a half point after an 89-move marathon.
Interview with SP Sethuraman | Grenke Chess on YouTube
The forty-five player lead had already been chopped down to a mere thirteen at the conclusion of the morning round of day 3. And after the fifth round, Aleksander Indjic of Serbia was the only one to be able to retain his perfect 5/5 score.
In some of the other top matchups of the round, Anton Korobov was held to a draw by IM Annaberdiev, Meilis; the all GM matchup between Antonios Pavlidis and Maksim Chigaev also ended peacefully; 12-year-old Gukesh D, who got to play alongside greats of the Grenke Chess Classic on the main stage, held Daniel Fridman; while IM Arjun Kalyan bridged a rating gap of more than 150 points to draw against Gabor Papp.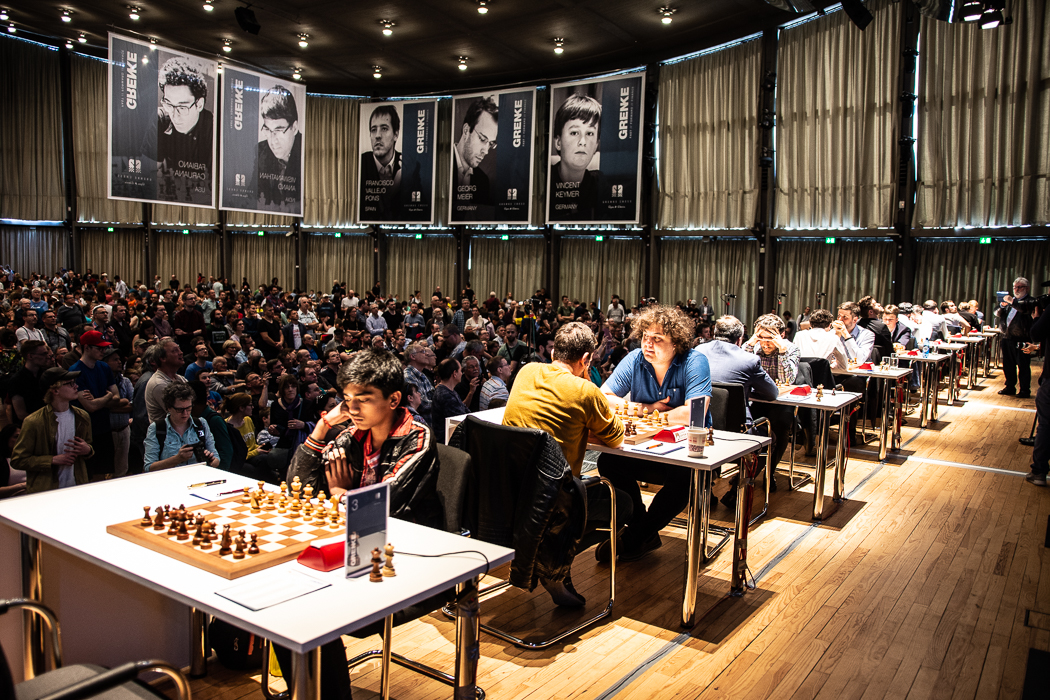 Gukesh playing alongside the elite of the classic | Photo: Eric vs Reem
Around the halfway mark, sole leader Aleksander Indjic is chased by a pack of 24 players who share the second place at 4.5/5. With four more rounds to go, the tournament still remains wide open. Round six will be played at 9:00 AM CEST on Easter Sunday. Pairings of the top ten boards of round six can be found below.
1
24
Indjic, Aleksandar
3
Korobov, Anton
 
-
 
2
30
Goganov, Aleksey
5
Kuzubov, Yuriy
 
-
 
3
6
Chigaev, Maksim
42
Gukesh D
 
-
 
4
43
Annaberdiev, Meilis
7
Sarana, Alexey
 
-
 
5
8
Fridman, Daniel
40
Pavlidis, Antonios
 
-
 
6
55
Malakhatko, Vadim
9
Sethuraman, S.P.
 
-
 
7
10
Predojevic, Borki
45
Dann, Matthias
 
-
 
8
57
Baldauf, Marco
11
Esipenko, Andrey
 
-
 
9
12
Heimann, Andreas
76
Arjun Kalyan
 
-
 
10
67
Sonis, Francesco
17
Bluebaum, Matthias
 
-
The video team of the GRENKE Chess Open shoots numerous videos every day. The interviews and impressions of the events in Karlsruhe can be viewed on the YouTube channel.